Spis treści
Aranżacja przestrzeni biurowej to nie tylko kwestia estetyki, ale także ważny element wpływający na efektywność pracy, zadowolenie pracowników i wrażenia klientów. W dzisiejszym artykule omówimy, dlaczego warto inwestować w odpowiednią aranżację przestrzeni biurowej i jakie korzyści przynosi to zarówno dla zespołu, jak i klientów.
Komfort pracowników
Komfort pracowników jest kluczowy dla efektywności i satysfakcji z pracy. Odpowiednio zaprojektowana przestrzeń biurowa może przyczynić się do poprawy komfortu pracy. Ergonomiczne meble, dostosowane do potrzeb pracowników, ergonomiczne krzesła oraz optymalne oświetlenie są elementami, które wpływają na dobre samopoczucie pracowników.
Kreatywność i produktywność
Dobra aranżacja biura może pobudzać kreatywność pracowników i zwiększać ich produktywność. Przestrzeń, w której panuje harmonia i estetyka, zachęca do bardziej efektywnej pracy. Dodatkowo odpowiednio zaplanowane strefy do pracy zespołowej czy miejsc do odpoczynku mogą sprzyjać innowacyjności i współpracy w firmie.
Pierwsze wrażenie dla klientów
Przestrzeń biurowa jest często pierwszym miejscem, które odwiedzają klienci i partnerzy biznesowi. Dlatego jej wygląd ma ogromne znaczenie. Estetyczne i profesjonalne biuro może zrobić doskonałe pierwsze wrażenie, co może być kluczowe dla zawarcia udanych transakcji i budowania trwałych relacji z klientami.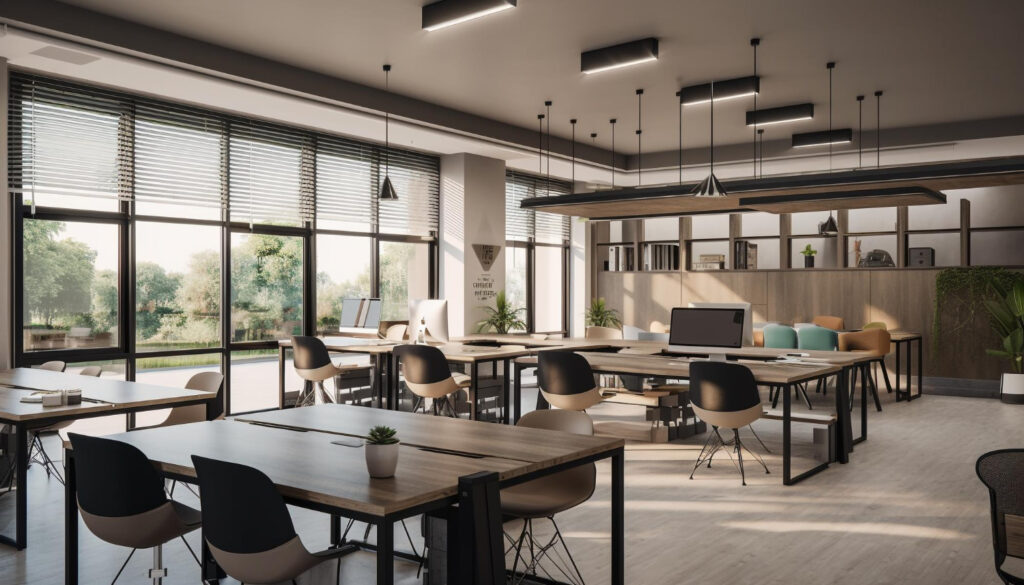 Kreowanie wizerunku firmy
Aranżacja biura jest również sposobem na kreowanie wizerunku firmy. Wybór kolorów, materiałów i stylu wnętrza może być zgodny z identyfikacją wizualną firmy, co podkreśla jej spójność i profesjonalizm. Tworząc spersonalizowaną przestrzeń biurową, firma może wyróżnić się na tle konkurencji.
Elastyczność i adaptacja
Warto również zwrócić uwagę na elastyczność przestrzeni biurowej. Dzisiejsze firmy często zmieniają się i rozwijają, dlatego ważne jest, aby biuro można było łatwo dostosować do zmieniających się potrzeb. Modułowe meble, które można łatwo przearanżować, oraz przemyślane rozwiązania technologiczne pozwalają na szybką adaptację przestrzeni.
Zrównoważony różnice
Trendy w aranżacji biur coraz częściej kierują się w stronę zrównoważonego rozwoju. Wybierając meble i materiały, które są przyjazne dla środowiska, firma nie tylko dba o planetę, ale także pokazuje swoje zaangażowanie w odpowiedzialne podejście do biznesu.
Monitorowanie efektów
Po przeprowadzeniu zmian w aranżacji biura warto monitorować ich efekty. Czy pracownicy są bardziej zadowoleni? Czy klienci komplementują nowy wygląd biura? Analiza danych i opinii pracowników oraz klientów pozwoli na dalszą optymalizację przestrzeni biurowej.
Podsumowując, aranżacja przestrzeni biurowej ma ogromne znaczenie dla zadowolenia pracowników, efektywności pracy i wizerunku firmy. Inwestycja w odpowiednią aranżację może przynieść wiele korzyści, zarówno wewnętrznych, poprzez zwiększenie produktywności zespołu, jak i zewnętrznych, poprzez kreowanie pozytywnego wizerunku firmy w oczach klientów. Dlatego warto poświęcić czas i środki na stworzenie przestrzeni biurowej, która będzie sprzyjać rozwojowi biznesu.